11/8/10 Fullerton, CA - Faculty Member Dr. David Timms Releases New Book, "The Power of Blessing"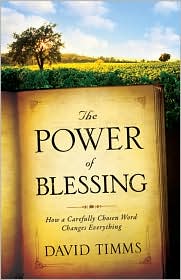 Dr. David Timms, Chair of the Ministry Department and Professor at Hope International University, recently published a book called, "The Power of Blessing: How a Carefully Chosen Word Changes Everything." Through this book, Timms takes readers on an exploration of the power of our words to create a new reality for someone else by examining the Beatitudes.
"Not only must we deal with the proliferation of negative language, but psychologists tell us that the power of negative words is exponentially greater than the power of a positive word," says Timms. "But if negative words have an enormous power in our lives, carefully chosen and timely positive words can do the same."
Timms has been intrigued by the Beatitudes for years because of the way they speak profoundly to heart issues rather than circumstances. "All of that led me to deeper study and analysis – what is a blessing? Is there still a place for blessings today? How can we bless one another? And what core values of the Kingdom of God do these Beatitudes reflect?" stated Timms. He seeks to help readers see how these blessings can shape their lives, and show that the seemingly simple passage of Scripture has the potential to be deeply transformational.
The Power of Blessing is published by Bethany House, (2010), and is available for purchase on www.amazon.com, www.christianbooks.com, www.barnesandnoble.com, www.bethanyhouse.com, or through local Christian bookstores.
Dr. David Timms teaches New Testament and Theology and serves as chair of the Graduate and Professional Studies Ministry Department at HIU. Australian by birth, Timms has been a church planter, pastor, and trainer of pastors for over 30 years. He and his wife, Kim, have three sons and live in Fullerton, California.
Timms publishes a weekly e-zine, "In HOPE", that shares his reflections on Christian leadership and growth. To subscribe to this free e-publication, email djtimms@hiu.edu and write "Subscribe to In HOPE" in the subject line. To view past issues of "In Hope", go to http://www.hiu.edu/inhope.